Our mission is to expand the limits of the visible and possible for the doctors. By providing quality innovative IT solutions for medicine, we contribute to improving the health of people around the world.

Static edition with standard functionality
View flat images

3D volumetric reconstruction

View multi-planar reconstruction

Digital Subtraction Angiography (DSA) ModeDigital Subtraction Angiography Mode (DSA)

Dynamic Contrast Mode (DCE)
Export a model to a graphic file or a new series of DICOM images

Print images on paper and film using a DICOM printer

Acting as a PACS server, processing C-FIND and C-MOVE commands

Burning data to CDs, DVDs, and flash drives
Dynamically developing edition (release every quarter)
Extended functionality features
Advanced 3D Reconstruction

Export surfaces in OBJ, STL, PLY formats

Advanced multi-plan reconstruction

Adding Markers and Marker Lines

Combining Series with Advanced Tools
Virtual endoscopy with various options

Recording video from viewports (64-bit builds only)

Web access

Ability to activate additional modules

Custom development of specialized modules (example: Preoperative planning of the installation of transpedicular screws)
PET / CT analysis module
Positioning a 3D model in a MIP window
Automatic billing of CLUT and WL
3D MIP for PT Series
VOI Tool
One-click tool
Manage multiple tools at once
2D MIP for CT-series with the ability to change the thickness of the cut
Switching between Mono PET, Mono CT, PET-CT
Setting the default color table for MIP
Image navigation, mirroring, magnifying, PET export options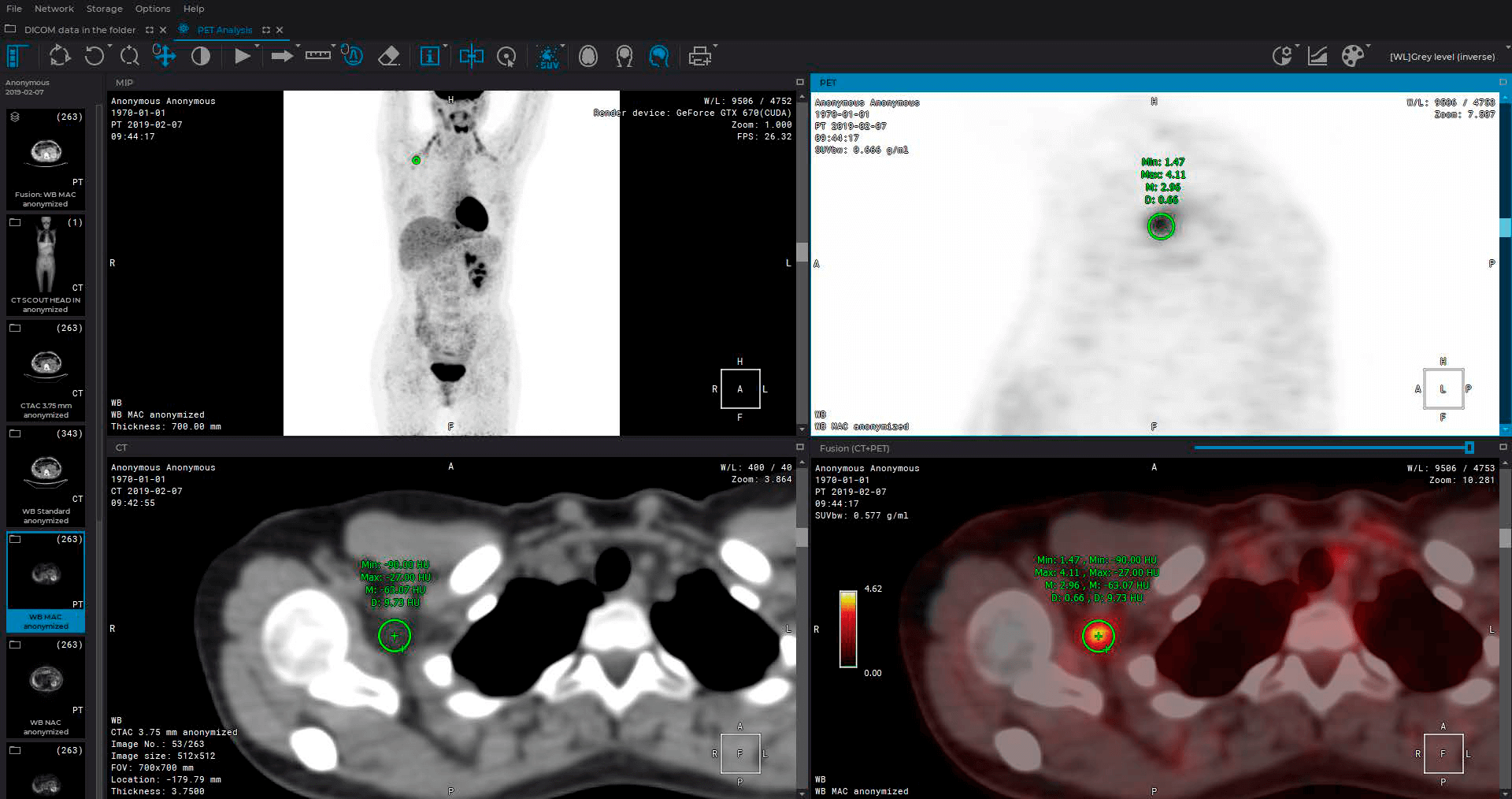 Vessels analysis module
Algorithm for automatically determining the center line of a vessel
Algorithm and interface for semi-automatic and manual editing of the center line of the vessel
Algorithm for automatic analysis of transverse sections of a vessel to determine the area, as well as the minimum and maximum diameters
Interface for working with the scan of the vessel, including the choice of cross sections and their display
Automatic display of percent stenosis based on selected reference and working sections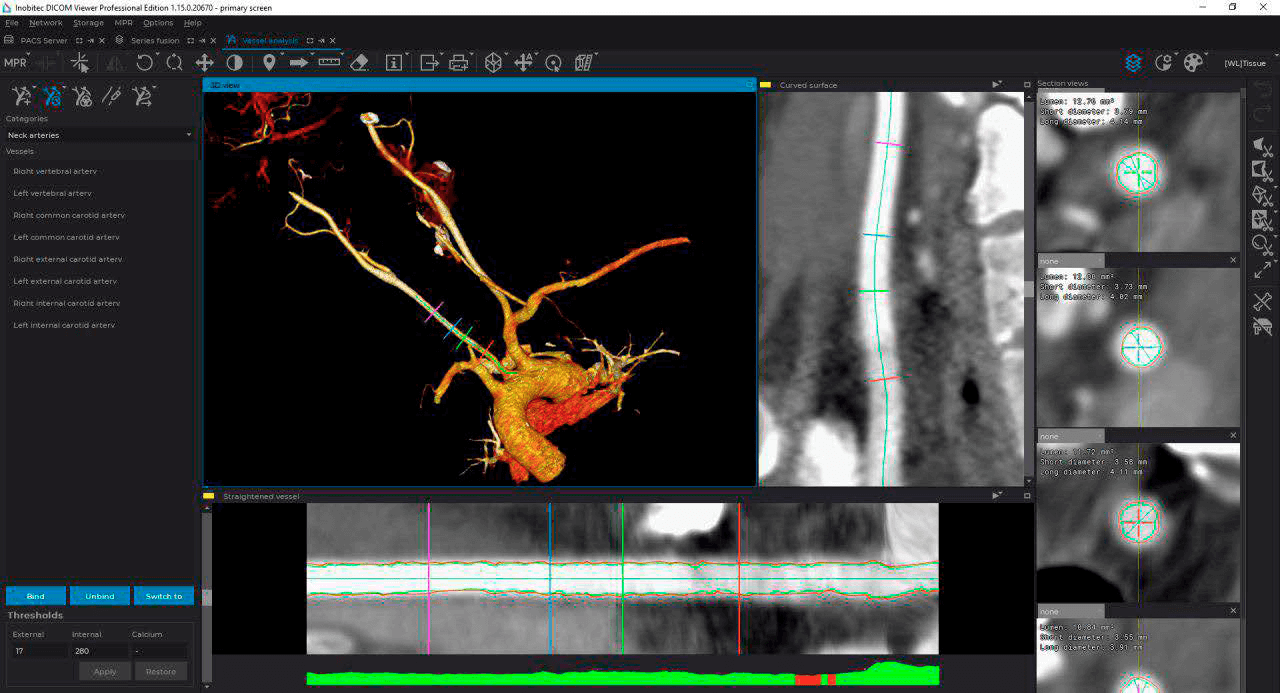 Coronary Arteries analysis module
Calcium Scoring
Analysis of transverse sections of coronary vessels to determine the boundaries of the lumen of the vessel and the boundaries of the outer wall
Classification of tissue in the vessel wall: fat / calcium / fibrosed tissue
Isolation of the portion of the vessel for analysis, display of the color of classified tissues
Automatic search for the bottleneck in the selected section. Display the length of the selected section and the distance to it from the mouth of the vessel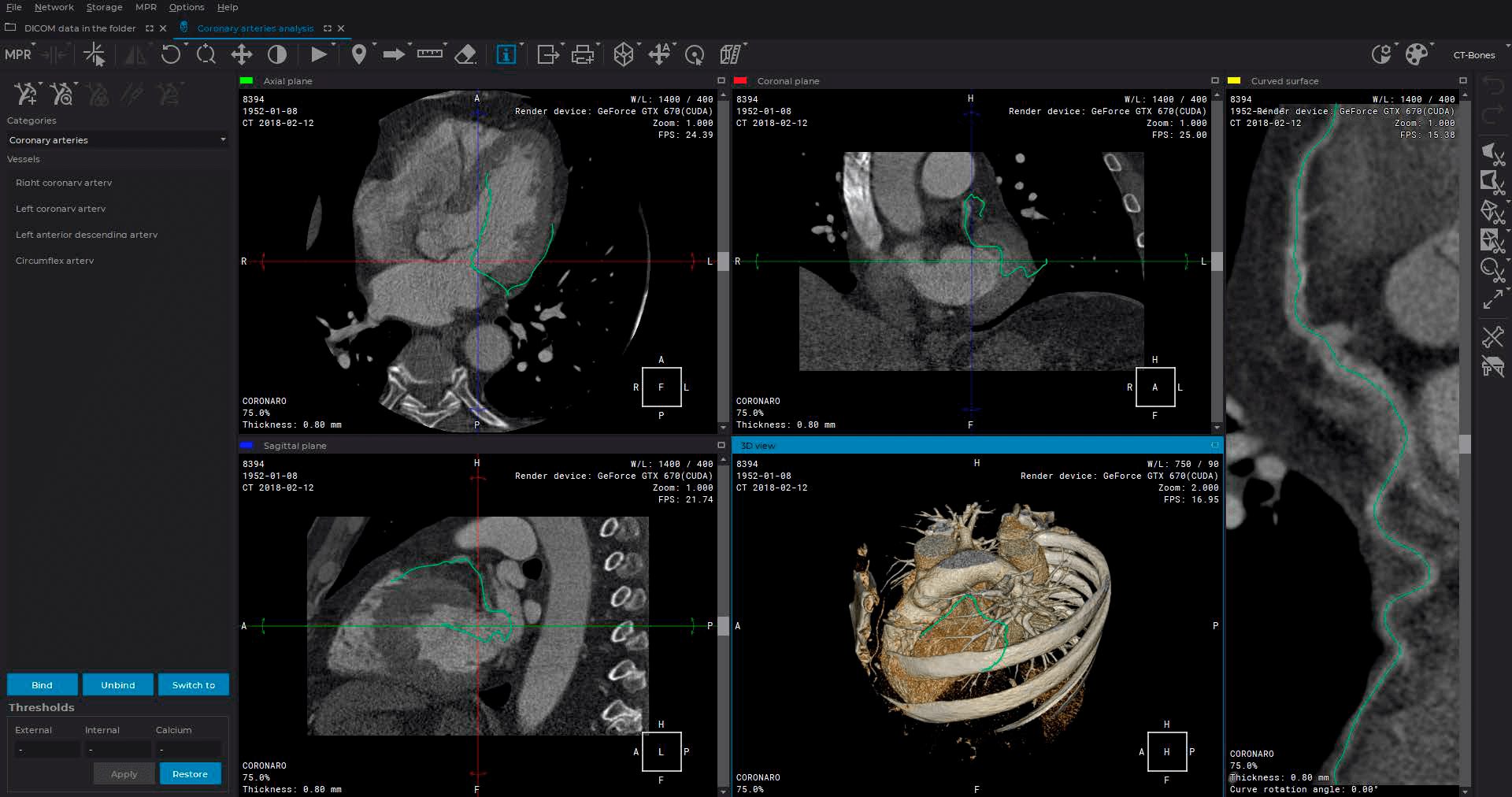 Inobitec DICOM Server (PACS) is designed for archiving, online access, transfer of images (studies) obtained from various DICOM-equipment installed in the institution.
Support for Windows and Linux

Working with MySQL and PostgreSQL

DICOM protocol support for storing and transmitting snapshots, as well as for storing scheduled procedure lists (MWL)

WADO ++ support (access to snapshots via HTTP)

Administrative panel for managing server settings
The ability to differentiate access to data for client devices

View snapshots saved on the server

Migration Utility for Existing DICOM Data Warehouse

Archiving and setting storage periods for images

Regional PACS Server