Invasive
cardiac
mapping system in partnership with Meditek, Ltd
The complex is intended for carrying out intracardiac electrophysiological studies using endocardial cardiac mapping techniques and programmed electrical stimulation of the heart. Provides full compatibility with the equipment for performing catheter destruction and can be successfully used in conducting ECS implantation operations.
The complex was performed in accordance with the recommendations of the Committee of Experts of the Ministry of Health of the Russian Federation and the Russian Academy of Medical Sciences on implantable antiarrhythmic devices and electrophysiology.
The equipment, included in the complex provides:
registration and visualization of external ECG signals and invasive electrograms,
determination and display of the position of the poles of intracardiac catheters,
construction and visualization of maps of electrical excitation of the heart,
elimination of arrhythmogenic zones in the heart with the help of the included radiofrequency destructor,
electrical stimulation of various areas of the heart with the help of the included electrostimulator, stress tests with atrial stimulation to detect myocardial ischemia.
Opportunities
Recording of 128 endocardial channels and 12-leads ECG;
Superior electrogram signals;
Compatible with any EP catheter;
Мощный радиочастотный деструктор;
Dual channel cardiac stimulator;
Advanced RF Ablation System;
High-precision nonfluoroscopic navigation system and mapping system;
Invasive Blood Pressure recording;
Integration with other Astrocard products.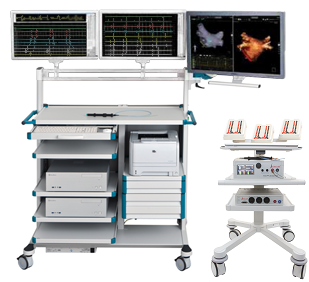 Recoding
The System allows recording of standart 12 lead ECG on and intracardiac electrograms on in unipolar or differential modes (up to 128 channels) at the same time. The recorded information is displayed on the two screens: in the real-time and in review mode at a user-selected number of channels. All study data is stored for further review and, analysis. During the study user can print current ECG and electrograms as well as selected areas of preceding record.
All channels have built-in protection against RF destructor. Programmable digital filters are used to provide exceptional signal clarity.
The software includes a wide range of service functions (trends, synchronization with stimulator, template matching mode, etc.).
Supports inputs for invasive blood pressure sensors.
Electrostimulator
The System includes a 2-channel stimulator that allows programming all of the common heart stimulation protocols that are using in clinical electrophysiology studies. The standard (square wave) stimulation and two-phase shape impulse stimulation are available. Impedance between the poles of the stimulating catheter can be controlled during the stimulation.
The RF destructor
The System includes RF generator that is compatible with the most common ablation catheters. Automatic temperature- and impedance control is performed during the ablation.
Mapping
Astrocard Navigation System allows defining and visualizing of each pole position of endocardial catheter in real time. Coordinates are defined for all electrodes, while all types of catheters can be used for mapping.
The navigation and mapping unit provides: building 3d models of the heart chambers precise localization and visualization of all catheters in real time, electroanatomical mapping, isochronal mapping, propagation mapping, voltage mapping for visualization of myocardial fibrosis areas and ablation lesions visualization.
System features:
Astrocard Mapping technology supports fast construction of three-dimensional heart chambers models;
Operation with all types of catheters;
Visualization of electroanatomical models with 3d heart models derived from computed or magnetic resonance imaging;
Automatic cardiac cycle detection used for mapping;
The pace mapping (correlation maps) supported;
Supports entrainment-mapping (construction of post-stimuli intervals durations maps);
Supports mapping using multipole electrodes.
Analysis
All studies are stored in database for review and post-processing. Data can be saved to the workstation or external storage device. Reviewing and analysis is carried out in multichannel real-time signal scrolling mode with fully customized scale options. Stimulation markers, RF generator parameters as well as multiple trends can be displayed for the entire study. Astrocard EP2 provides enhanced tools for time intervals and amplitude measurement. Any of the stored channels can be filtered by user-selected frequencies.
Print
The system provides high-quality prints ECG and electrograms on a laser printer at a rate of 5 to 400 mm/s.